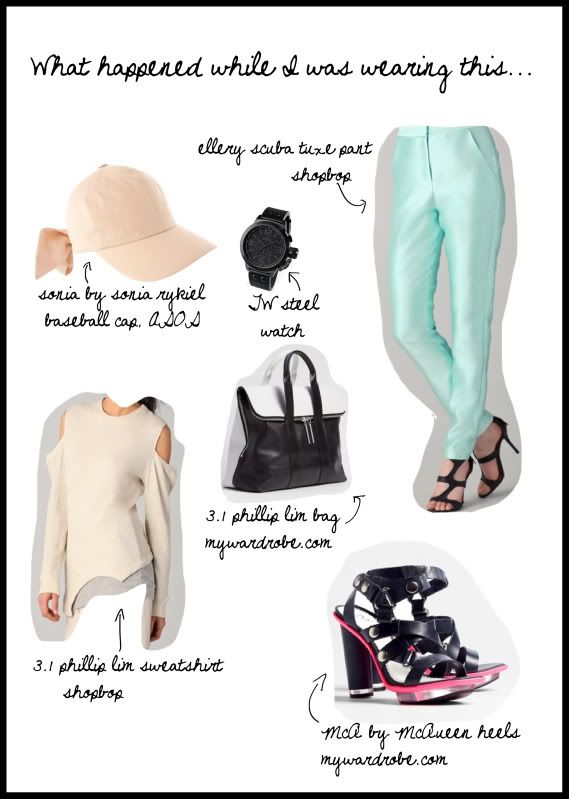 I had a manic day yesterday - I managed to score a last minute flight to Paris on a whim, Phoebe Philo called me and was all like "Babe! You gotta be in Paris for my show - why aren't you here?!".
So I maxed out my credit cards on a business class ticket to the final fashion city and here I am, blogging from Paris. Such a whirlwind I tell you - but the big wigs of the fashion industry are really starting to count on fashion bloggers to spread the hottest fashion news to every internet fashion fiend around the globe so in the end I'm not surprised that I was needed.
The show itself was obviously sensational and no doubt you'll be filled in on the genius from every other Celine crazed bloggette out there (I was attending the show as a close personal friend of Phoebs, not really to blog) but what I do want to share with you is the encounter I had outside with ADR (Anna Della Russo). The pair of us were standing close by each other, being hounded by 'Streetstylers' and I'm all "Tommy, you've had your turn, move along" when ADR approached me.
ADR "Darling! I love your hat!!! Where did you get that?"
Z "ASOS Anna, you know, that online/high street retailer?"
ADR "No love I don't think I've heard of it... Is it stocked in Colette?"
Z "Mmm not quite.. I love your hat though Anna, is that an actual beaver?"
ADR "Yes darling, but don't be worried, he was sedated on Perrier Jouet so he went out smiling."
Z "Oh Fabulous... hey Anna, can I give you a tip about about your blog?"
ADR " Oh please yes, I'll take any advice I can get, being a blogger can be so challenging!"
Z "Please remove all those horrible cartoon GIF's, they don't suit your couture."
ADR " Never! It's all a part of my pastiche!!! It's called juxtaposition darling. Clash or die."
Z "You're probably right... you wanna get a burger with me?"
ADR "What? And remove my girdle? Sorry darling, fashion week is every week for me."
Z " OK, nice to meet you Anna." *Cheek kisses*
Crazy huh? This fashion life.