Every season I take stock of the major fashion shows and piece together concepts and themed photoshoots using the major trends I've take note of... so for example, here's a little idea I've storyboarded. Its slightly fantastical, so in my little dream land this shoot would feature in a mag like V or Vogue Italia. Here goes.
Ruthless stockbroker by day, unstoppable murdereress by nightfall, driven by money and blood - The Wall Street Supervillain.
Thus, a photo shoot inspired by the movies
American Psycho
and
Wall Street
. A woman striding through the night, the wall street stock exchange looming behind her.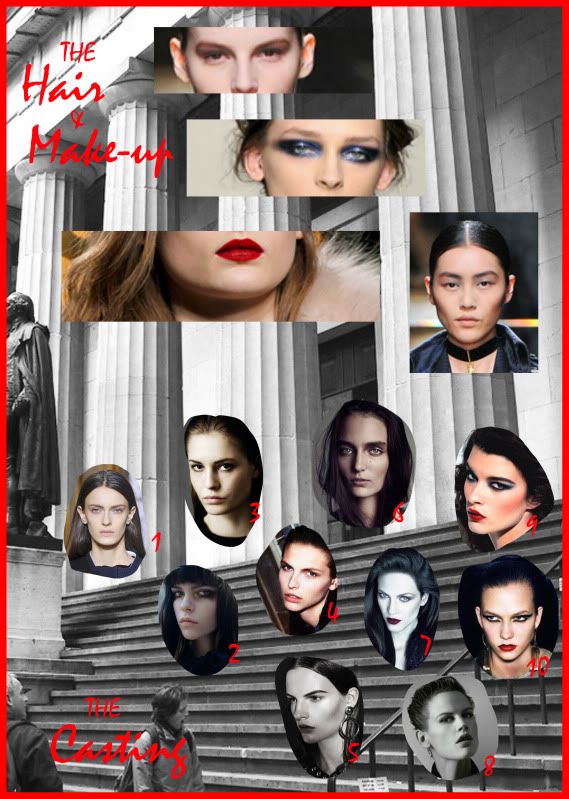 Model Casting - The Model must look like an actual woman (aka not too young looking!), be intensely fierce and be able to move in clothes well. Have a darker look or the ability to look 'dark'. Cruella DeVille or Maleficent inspired. Imposing stature. A little like the actress Eva Green.
In Order:
Erjona Ala, Megan Collison, Nadja Bender, Karlina Caune, Sara Blomquist, Zuzanna Biljoch, Aymeline Valade, Saskia De Brauw, Crystal Renn, Karlie Kloss.
Who would you choose? I think Crystal or Karlie would both be stellar as they are such pro's but the newer girls are looking great too.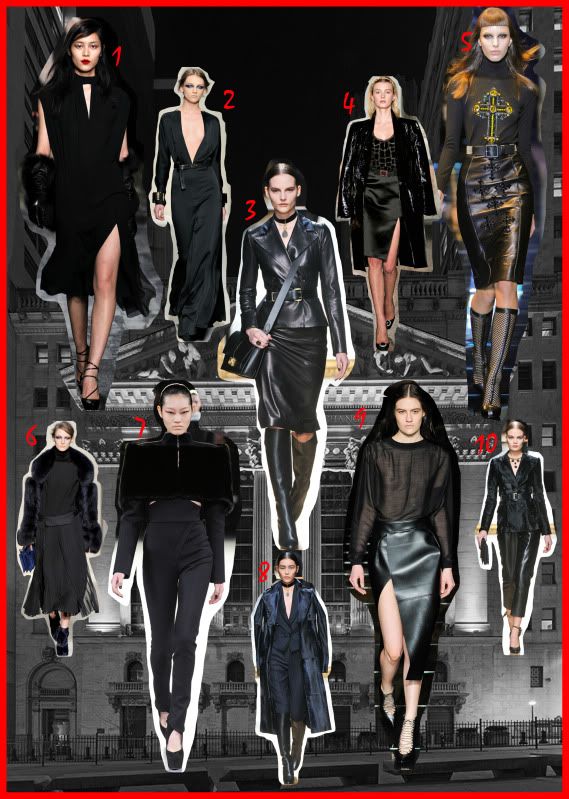 Styling Inspiration - all black, nineties inspired power dressing.
In Order:
Nina Ricci, Gianfranco Ferre, Salvatore Ferregamo, Emilio Pucci, Versace, Gianfranco Ferre, Mugler, Salvatore Ferragamo, Francesco Scognamiglio, Salvatore Ferregamo.
Theres no way that I could gather this kind of concept from Australian designers and execute it with the right kind of strength. Styling has never really been my bag and its partly because it's just so hard to pull together pieces with a concise vision - and shoes and accessories are near impossible to get hold of! It's genuinely the most difficult and time consuming job at a photoshoot. There is simply so much research and running around involved in every single look - not to mention that special talent to pull it all together! An excellent stylist should be duly admired, it ain't easy!
Can someone introduce me to Nicola Formichetti or Edward Enniful?
I still have sooo much to learn.... A shoot like this would require some major production costs. I would love so much to spot a shoot like this in the pending editorial set for fall, I'd feel like quite the trend predictor... Anyway, a girl can dream!