Its a Man's World.
Ok this one is a little stranger than the last, but hear me out. It's been inspired yet another movie, Albert Nobbs, starring Glenn Close. If you haven't seen it basically its a story of a woman in 19th century Dublin, who takes on the guise of a man in order to make a living for herself as a butler. The story got me thinking - I wonder if any women live this way in modern society? And if there is, how successful are they? Maybe Bill Gates was really a woman in disguise???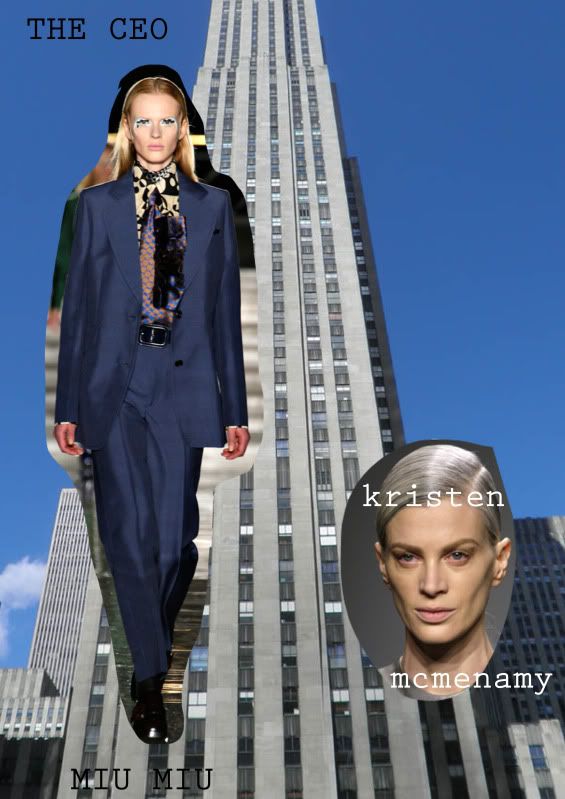 Anyway, I created these scenarios whereby women have tressed themselves up man-style and not only lived their lives as men but have gone on to be incredibly successful in their chosen male-dominated fields. A bit of social commentary on my part because as we all know, gender equality hasn't quite reached it peak.
Of course, I'm not one to take fashion or myself too seriously so of course this has a tongue in cheek side to it... I can't really believe a babe like Kirsten McMenamy could dress like a dude and fool everyone up to a CEO's position... fashion is fantasy.
The Casting
This was a tricky one to cast... the models not only need to be quite androgynous but also not too young in the face. I'm guessing a few make-up tricks would need to be employed to make it really seem genuine. I think Kristen, Stella and Kirsten would all look amazing stomping around in menswear.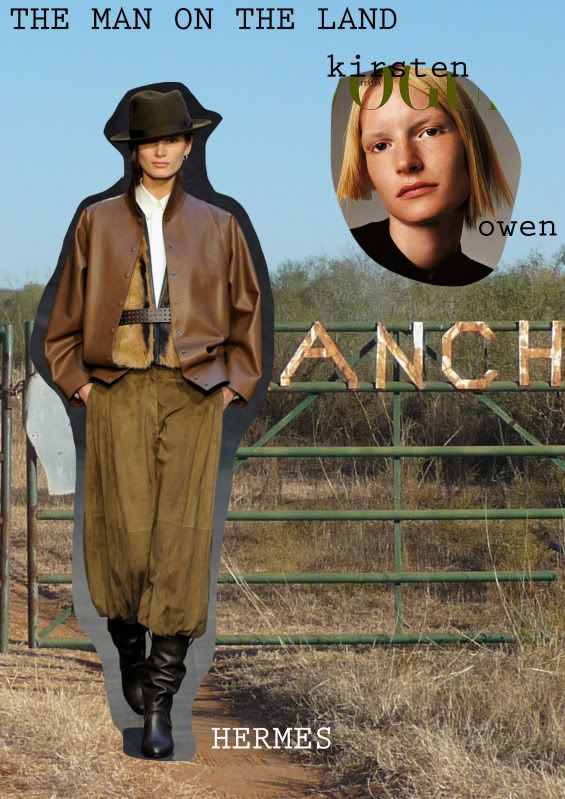 The Styling
A few notes on the styling, firstly the Miu Miu outfit would need a plain shirt not a patterned one... and the Driller's outfit? Definitely needs to be complimented with a fluro visibility vest for authenticity. The cowboy attire could probably do with a trouser instead of those suede 'happy pants'.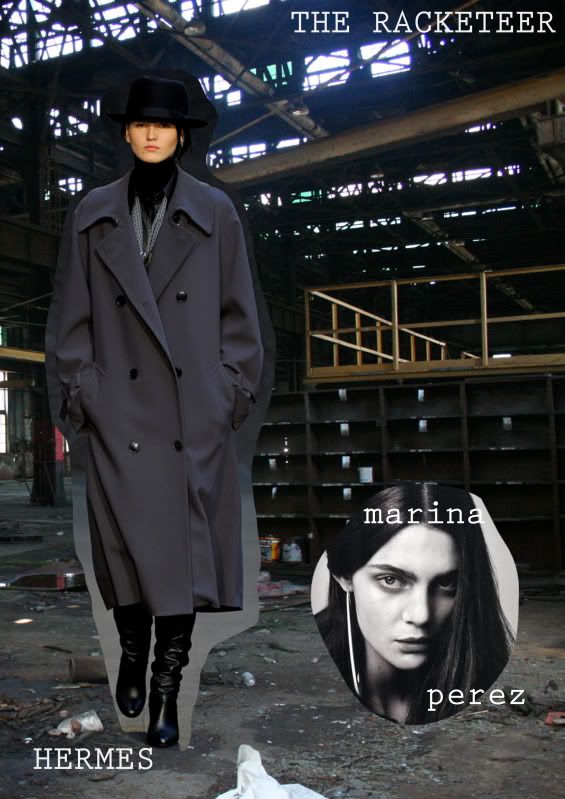 I actually picture a second black and white image to compliment each shot of this editorial, depicting each woman relaxing into their feminity at home after a long days work alongside the boys, maybe wearing lingerie or slipping into a robe, filing their toe nails or watching sex and the city. A kind of juxtaposition. Could work.