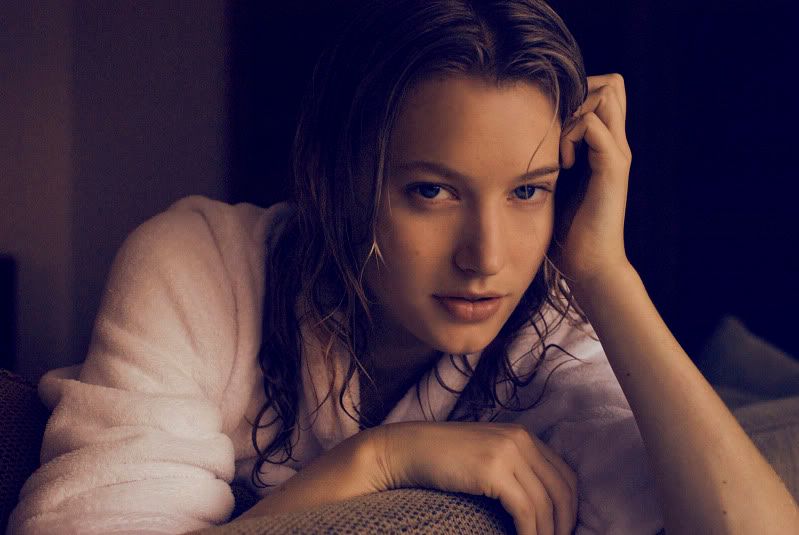 I've been receiving plenty of questions lately about my photography and while I'm a little hesitant to give away all my secrets, I've thought of a few basic points about lighting to share which could help anyone just starting out with photography. I've only just begun the hobby but I've had years of experience in front of the lens and I've been a sponge for knowledge particularly when working with some of Australia's finest. To me the most important thing is lighting - and the only kind of light that I use (or know how to use) is natural. Working with natural light you need to understand the way light is filtered and reflected by surroundings. Light coloured surfaces reflect alot of light, so a white wall is great for reflecting soft light back onto a face. When shooting a model in a room, work with light thats filtering through a window and just practice maneuvering the model until you find the spot where light is most flattering. In the above shot I was just shooting a test with afternoon light filtering through my lounge room window while waiting for my hair to dry (this was the day I put in the coloured tints!). Windows are great for filtered light because they beautiful shadow the darker background. When taking pictures outside on a sunny day don't ever try to work with overhead sun because it creates awful shadows on the face. In Australia the best times of day for shooting outside are sunrise and sunset, when light is direct to the face. Overcast days I love because the light is filtered by clouds all day, which reduces contrast and gives you a longer window to take pictures. The best way to discover locations with nice lighting is by trial and error - its quite easy to pick up once you begin to really use your brain and keep practicing. Great pictures can even be captured just using a point-and-shoot provided you don't use the flash (very unflattering!!!) and make the most of natural light and times of day.
In the below post, the vignette can be achieved by obscuring the edges of the lens with sheer fabric. I used the same silk scarf used to make the turban in the Susie Reid post. I just discovered this little trick through experimentation. I had seen photographers at various photoshoots I've done obscure the lens with things such as strings of sequins, crystals or even leaves.
Hope this helps some of you. All the details about my equipment are in my profile to the left.