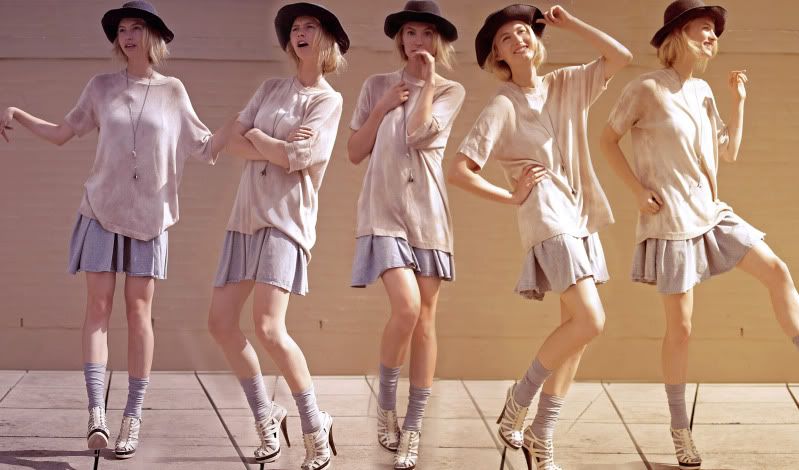 Its Zanita x 5! Not exactly seamless, but I don't really care, because it still looks really cool. I've been really busy of late with all kinds of errands - tomorrow I'm shooting two more tests for Priscilla's so I'm thrilled to be doing that.... just need to come up with a new theme for both of them! My wardrobe will be exhausted...
In other news I'm delighted to report that Urban Outfitters is delivering to my home nation AUSTRALIA! Finally my fellow Aussies can access the myriad of delights available on the
Urban Outfitters
website. The felt hat I'm wearing in the above pic is my new favourite piece of clothing, with its bendable wire rim and ability to be shaped into anything from a cowboy to a hobo hat - arrived in the post from Urban just a short week after ordering it online. So happy to have this parcel turn up on my doorstep! Love Urban Outfitters.....
My close friend Rachel from the
Stylestalker
blog and my favourite rising photographic superstar Elvina Mae of
The Bang House
tagged me with the NW magazine Mr Paparazzi tag so I've got some answering to do....
· What is the most worn item of clothing in your wardrobe?
My RVCA denim shirt.

· It's Oscar night and you can be dressed by any designer, who would you choose?
Victor and Rolf

· What trend are you tired of?
Bodycon - I can't eat dinner and wear a bodycon... unless its Herve Leger...

· If you could give any celebrity a makeover, who would it be?
Mischa Barton

· Who is your celebrity style icon and why?
Chloe Sevigny, she's so original.
And I thus tag the following incredibles:
thisisapastiche
fashiontidbits
friendinfashion
hat, Urban Outfitters
ballet dress, Stylestalker
top, H&M
pendant, Stolen Girlfriends Club
socks, American Apparel
heels, Zoe Wittner