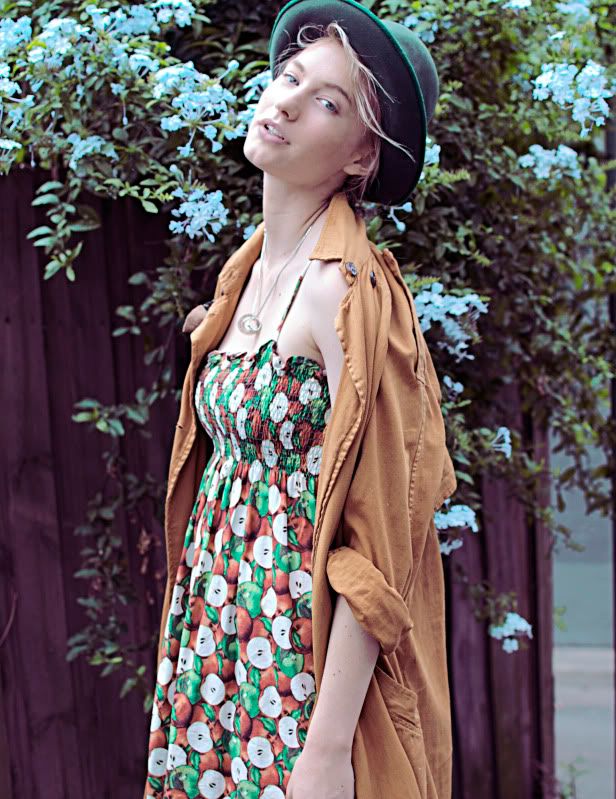 I'm well aware that I've worn this mustard oversize trench about 3 or 4 times on my blog but its just that its one of my favourite things to wear, it cost virtually nothing and in the name of being true to life as in blog I've got to feature it AGAIN. Do any of you style bloggers out there find it difficult to continually keep your blog updated with new pieces all the time? I find it such a drain to always create an original look... one day you'll all tune in to find 3 weeks of pictures - zanita, tee shirt, jeans.
I love fashion passionately, so I guess thats why I'm sporadically drained of inspiration, there's only so much you can give and I'm surrounded by fashion all the time.
The dress with the apples is very special to me, my Mum made it. Its the most cheerful thing I have in my wardrobe.
Love you Mum!!!
dress, by Mum
jacket, Vintage
shoes, Nine West
sunnies, Jigsaw
hat, Vintage
What could be more flattering than having a talented artist do an illustration of you? Thanks so much to my Finnish friend Maria at
Mon Modèle
for exercising her artsy muscles to create this work of me, I love it so much, much more ethereal than the original.
Anyone reading this, I think you're the greatest. X