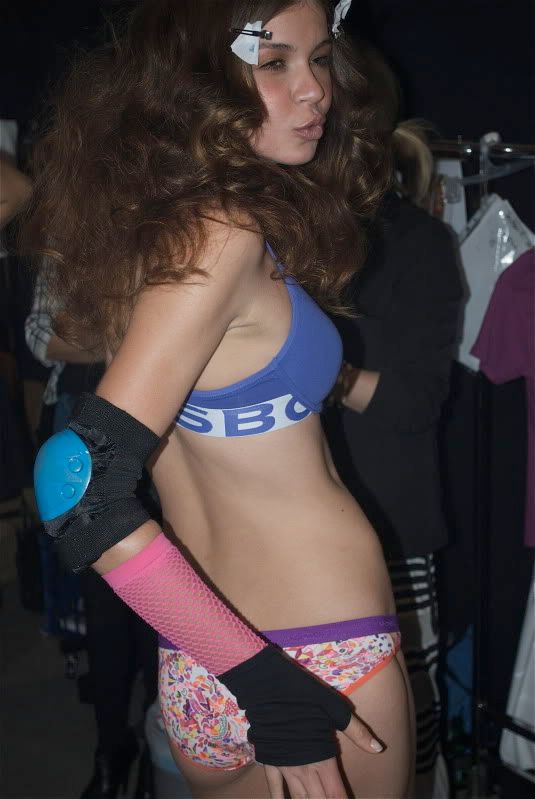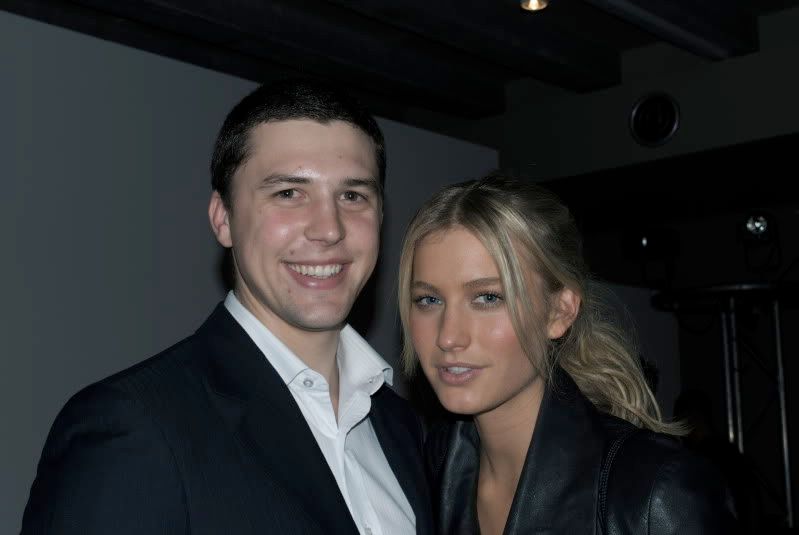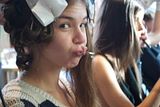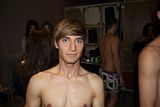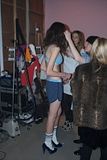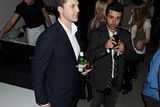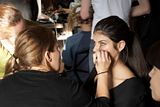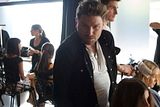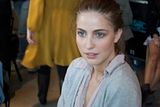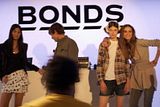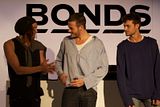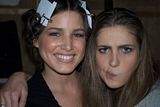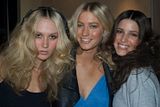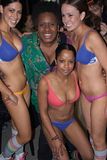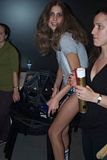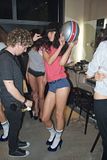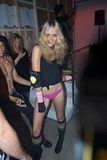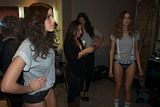 So here are a few poorly snapped shots from backstage at the Bonds S/S 09 Launch parade, I had to get a spray tan and coupled with a make-up artists overzealous bronzing ended up looking ridiculously and embarrassingly overtanned. Dipped in henna or something. Anyway, not so many pictures of me but I have included one of me and my darling boyfriend Evan.
Now, for those questions.
How do I maintain my skin? Beauty rituals?
I have to point out that though my skin looks nice in photographs, its not really that perfect, strong lighting, taking pictures in bright natural light always makes the texture of skin look clear and smooth so thats part of the secret. In the past I had plenty of problems with spots after trying every product and prescription on the market I finally found a brilliant dermatologist who solved my problem with Roaccutane. So my clear skin can be attributed to a combination of the prescription, good heavy moisturiser - at the moment I'm using Boots No7 for dry skin - and plenty of intense exercise or using the sauna/steam room (you gotta sweat!). At night after cleansing lately I've been coating my face in Boots Organic Super Face Balm, which is very heavy, but my dry skin drinks it up. My only other advice for improving skin tone is that products are only a small part of it. Good diet with plenty of greens and good fats (almonds, avocado), exercise, water and plenty of sleep are the best ways attain vital looking skin.
My exercise routine?
Staying in shape for me demands alot of effort. A few years ago I hated going to the gym but gradually I've begun to enjoy the buzz that you gain for exercising and the energy it gives you. Essentially there's no point doing exercise you don't enjoy because you won't be inspired to keep it up. I alternate between cardio, running, cycling, cross training in the gym and outside. I also do pilates, yoga, Body Attack and Spin classes at the gym, along with good sauna sessions. I usually go about 3-5 times a week. I also try to do plenty of incidental exercise, walking to and from castings and around the city. Pilates has been a great help with this because its improved my posture and gait and generally makes day to day tasks much easier.
How did you join an agency? Is the open days/times? Is there height requirements?
Most agencies I know have open times but you can check their respective websites for more details. Modelling was something I decided I wanted to try out after seeing Alyssa Sutherland win the Girlfriend competition and growing to 5'11 at the age of 14. When I was 15 I entered a competition by sending in photos, I was name a finalist but living in Esperance, which is about 8 hours drive from Perth, I couldn't make it to the final judging but the idea inspired me and when I finally moved to Perth I plucked up the courage to walk into an agency - where they put me on the books. Turns out this particular agency wasn't so great so after a couple months I switch to Viviens. I know a couple girls who model and are 5'7 but most of the girls I know who model are 5'9 - 6'0. Your look has to be something special if you are generally any shorter than these parameters. My advice to anyone thinking they might like to model is don't hesistate. Models have short career lifespans and to succeed you need to be very pro-active. Why sit around wondering when you can just send in some pictures and find out whether or not this career can really work for you? Modelling isn't really what most people expect its like but its still very exciting if you can fit the mould, I really love my job.
Are you going to take you photography further?
The more I contribute to my blog the more I'm inspired by Fashion photography. I'm hoping within the next few months I can start doing tests with other models instead of just taking pictures of myself. I'm consistently learning more about achieving different photographic styles and working on developing my own. I have everyone reading my blog to thank for encouraging me to pursue this interest and I hope I can continue to improve and provide an interesting perspective from my take on the fashion industry.

Is the style in sydney as good as mine? Not afraid to dress differently?
I really consider my own style as a work in progress - I really don't have the resources to truly reflect my current taste in fashion, all my influences come from magazines and the show seasons and I don't think this is truly exampled in the way I dress. Therefore I'd have to say there's so many people in Sydney with style better than mine, not so many risk takers but plenty with relaxed and easy style... but I guess these people a primarily around central Sydney. Walking around Surry Hills or Bondi you can spot plenty of people with great taste. I also always work with stylists who really know their stuff and there are plenty of amazing new Labels popping up all the time, Romance was Born, Ellery, TV, Dion Lee, Arnsdorf - to name a few. Russh is an incredible magazine that is based in Sydney and the newly formed Grazia magazine boasts top australian stylist Mark Vassallo. I'm always one to tout my own town though, I really love Sydney!
Fellow Aussies
Camille
and
CypriotChick
have both tagged me recently so I'm going to name a few things about myself which are probably a bit dorky.
1. I dream about going to New York like its a fantasy place.
2. I like to read books about medieval battles and dragons (think Lord of the Rings).
3. My hair has barely grown any longer in the last five years (this sucks!)
4. I played the Wicked Witch in the Wizard of Oz in highschool.
5. The best place I've travelled for work is Tahiti, such a dream.
6. I'm love music and music festivals, I wish I could have been at Woodstock.
7. I'm a really disorganised person but my boyfriend isn't. Ying and Yang.
8. I drink loads of tea, my favorite at the moment being black tea with rose and vanilla.
9. I used to have braces.
10. My birthday is the same day as Elle Macphersons, March 29. I'm an Aries.
Thus I now tag
My stunning Hawaiian friend Shin at
Fashion Cappuccino
Super stylish Isa from Hamburg who resides at
Bohemian Musings
The colourful Olya from
StyleofBailey
s in the Ukraine
Another fellow Aussie
LoveMore
who really dishes out Genuis inspo.
And finally model-esque Caroline from Portugal who has set up shop at
The Clothist
What an enormous post! I really do know how to ramble on a Sunday don't I?