Since I've been so terrible at blog maintenance of late I decided to look into giving my blog a little something extra by making use of my fashion insider occupation. People have me asking me alot of questions by way of emails about my experiences as a model and I'm more than willing to share whatever I've learnt but have decided that by providing a few different view points I can give a broader spectrum idea of what its like to live this occupation. Gemma Jones is a friend of mine and shes up first on the chopping block! All my interviews are unscripted so please excuse any random drivel that comes along, I'm sure as I get better at the interogations I can extract I little more scandoulous truths which should be much more interesting.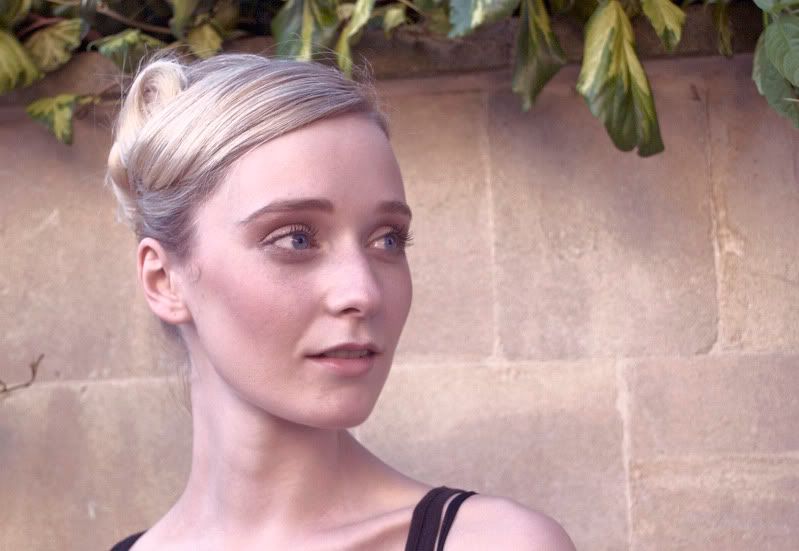 (photo by me)
Gemma Jones, 20 , is a a true English rose with her sparkling blue eyes, an elegent demeanor and perfect strut, her look reminds me a little of a young debutant from the 20's or 30s. Like myself she is represented by Models1 here in London and the two of us have worked together a few times whilst I've been here. Here is a conversation we shared whilst travelling back home together from a job in Bath (after a glass or two of wine!). Hopefully through this interview with Gemma and the ones to come I can bring some light to what its like working in this unique business.
ZW: Speaking to Gemma Jones, a New Face from Models1, thanks much for allowing me to coerce you into this!
GJ: (laughs) No worries!
ZW: So how long have you been modelling?
GJ: Well I joined Models1 when I was 16, very young, but I was studying at the time so I started just part time.
ZW: How did they find you?
GJ: I was scouted, walking along oxford street, an agent came up to me so and I ended up in the agency, they took some polaroids and it all began from there.
ZW: So you were really tall at that age?
GJ: Yes, Ive always been tall, always the tallest at the back of the class in the school photos...
ZW: So did you originally have plans to go to university after school?
GJ: Well yes I still have plans really, I did my A levels and just taking modelling as an oppurtunity to travel and earn some money, its a good experience.
ZW: What do you like most about modelling?
GJ: The variety of jobs you can do, I love doing a mixture of things, particularly catwalk which is exciting, TVC and photoshoots are great too, when things are constantly varied it definitely keeps it interesting.
ZW: Can you see yourself continuing to do this over the next few years or so?
GJ: Yes I'd love to continue doing this for as long as I can! I felt as if I couldn't commit so much in the early stages because I had to concentrate on getting through school. I believe thats really important for girls to remember that before they embark on a modelling career, in case they find its not for them or its not really what they expect - but my key aim is to move onto mainboard [at Models1] and then start working a little more internationally.
ZW: It's pretty competitive right...
GJ: Well I don't mind competition, as long as you maintain focus and confidence.
(photo courtesy Models1)
ZW: What have you found the hardest part about working as a Model?
GJ: Its all been pretty new to me, everything is a new experience, castings aren't always easy. Often when you see different brands on the same day, one client can be looking for a rock-chick and another may be a little more sophisticated, you have to transform yourself, appealing to everyone, be versatile, but still being yourself. That's quite hard.
ZW. Where would you love to travel to work?
GJ: Ultimately New York of course! But maybe also other place Barcelona is a place I could be interested in, its a cool place.
ZW: What places have you travelled to for jobs?
GJ: The best place I've been so far is the south of France, near St Tropez, I went there for a week of shows at a festival, haven't travelled so much out of the UK but Ive big plans for summer and the rest of the year.
ZW: As great at the job is, there's plenty of pressures that arise related to weight and body image, do you ever get criticised by clients for your size or anything like that? Or perhaps for your lack of size!?
GJ: Thankfully I've never had any direct criticism before but sometimes you'll get a hint that perhaps your hips are too big or something like that.
ZW: Sometimes its the looks you get that are the hardest to take right?
GJ: Yeah thats right! But thats just the way it is I guess, sometimes its like whatever it takes to do modelling you know?
ZW: Yeah alot of girls make many sacrifices, sometimes too many, but you're obviously not one of those girls so thats great.
GJ: I hope I don't have to be!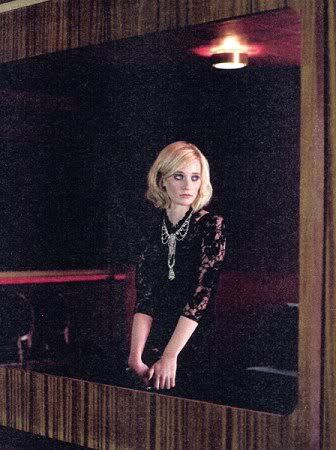 ZW: How do your friends and family feel about you modelling?
GJ: (laughs) I think my family are a little bit obsessed about it! If I've got a job here or a TVC there, my Mum in particular with always contact the rest of the family and spread the word ha! Some of my friends got a bit funny about it but others are generally really happy for me. Its a fairly coveted job for young girls but you need to be really in it to know that it is really hard work.
ZW: Of course! Its not what people expect either, a lot of girls want to be models so they can work in high fashion when most modelling jobs aren't related to high fashion at all and you need to utilise a very specific skill set. The models who everyone sees and are really well known only make up a tiny percentage of working models out there. This is why I want to interview some girls - shed some light! Theres much more to modelling than supermodels.
GJ: Oh I have this friend, he says to me 'gosh you've such an easy job, you just stand there and take photos all day' and its really not like that. I know that a part of it resembles that but you still have to put in alot of effort to get each job and constantly run around doing castings which takes it toll, its not all handed to you by an agency.
ZW: Yes! And in terms of money, not all jobs are paying alot of money either, sometimes it quite tough on the old finances, you always have loads of overheads.
GJ: The money can be extremely varied from nothing to loads, but editorials pay some of the least, for example I did a page spread for Vogue and the day paid about 50 pounds, but things like that are more about the oppurtunity to work for such a high calibre client.
ZW: Always waiting around the the best opportunities aren't we...
GJ: Of course.
Next weeks interview - the divine Jasmine Brunner at Independent :)