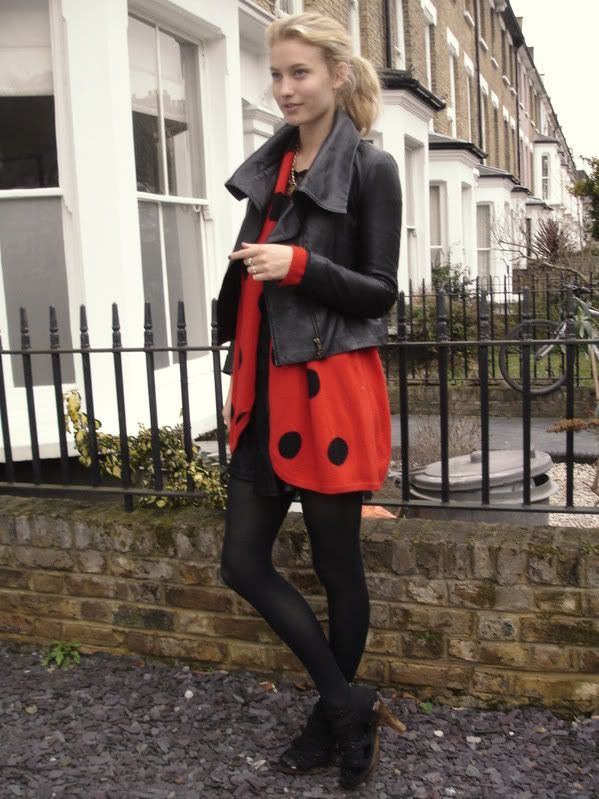 Sitting on the couch watching the fabulous old movie His Girl Friday with an awful sinking feeling that I hadnt made any posts for days - I gathered this ensemble. Its what I'm planning to wear tomorrow for my first set of fashion week castings (I didnt do any last week as I was working a lot) but I may change my mind yet again before the time comes to get dressed. I must admit I'm a little terrified of strutting for all these big names.....sometimes designers and stylists can be quite harsh and these kinds of castings can be pretty taxing on the confidence. Its a bit of a viscious cycle - most of the time you can win over a client in the first 30 seconds of meeting them, confidence is definately key but when you are feeling down then nothing seems to come your way. I also had an awful dream last night about visiting agencies in NY and all of them were really cruel about rejecting me. This morning I went vintage shopping and bought this cashmere ladybird 80's sweater cardigan. Its the warmest, softest thing and in a brilliant stand out colour it has definately made me a little happier.
I NEED NEED NEED new heels. I only brought over six pairs of shoes from Oz (2 heels, 2 boots, 1 uggs, 1 runners) and even thought they are all pretty versatile I feel like the most uninteresting repeat performer. Topshop have some sexy pairs which I should invest in...
skirt, AA
Shirt, H&M
leather jacket, tailored in Bali
cashmere polka dot cardigan, bought at Frock Me! (Chelsea Town Hall Vintage Fair)
heels, Mollini
His Girl Friday (1940) is a great film for a cold day if anyone out there hasnt seen it... The styling is so fabulous and I adore Cary Grant.